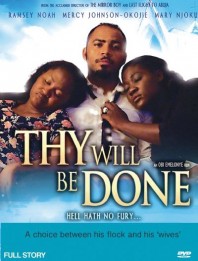 Starring: Mercy Johnson, Ramsey Nouah, Mary Remmy Njoku, Jide Kosoko
Synopsis:
A young pastor looked forward to building his dream home and starting a family with his wife but turmoil struck when his ex-wife reappeared from the dead.
Review:
Pius (Ramsey Nouah) was an influential pastor that effectively preached the word of God. He was well respected and his ministry was even televised. Lucy (Mercy Johnson) was his wife and she was covertly experiencing fertility issues and prayed for a miracle.  But life was still sweet because Pius and Lucy both had a strong faith in God and they were in mid construction of a new home.
One day during a sermon, Pius looked toward the back of the church and saw his supposedly deceased ex-wife walk in. He buried Munachi (Mary Njoku) about seven years ago…at least so he thought. 
The back-story revealed that Munachi disappeared on their wedding night and that the body of another was mistaken for hers. She actually had an accident that resulted in the loss of her memory and it caused her to stay tucked away for years. 
Pius visited with Munachi's father for answers and to his surprise he found her there. He was shocked yet thrilled to see her after a seven-year absence but her reappearance presented a problem; Pius suddenly had two wives! Lucy was determined to continue her life with him while Munachi wanted her husband back. Who should he choose? 
Let's Talk. Got issues? This movie emphasizes that God doesn't give us problems that we can't handle. It reiterates what we hear in church on Sundays – bring it to the Lord in prayer. 
Needless to say, "Thy Will Be Done" is made up of conflict wedged with spirituality. The filmmakers found all the effective elements that makes gripping stories – conflict, love, and suspense and they came up with a peculiar movie that worked.  
I'm not of fan of movies where characters come back from the dead because it's just unlikely and fantastical. However I do appreciate faith-based movies or those with a flair of religion. While we're being entertained, a reminder that God is real isn't a bad thing. Film is such a powerful medium and those with this platform should use it for the good. 
This movie garnered interest because it presented emotional and legal battles. Which factor should have swayed a decision between two wives? The law or the heart? Was the first marriage valid or the second? 
Throughout the story, I watched to see how the Pius character would resolve his dilemma. He seemed to take his time as though he was waiting for God's direction but interestingly enough, the person in the love triangle that lost faith was the one that lost the war. 
Performances? The highlight of this movie was the acting. It would have been a completely different movie had it been cast with another set of actors. Mary Remmy Njoku produced and played a part and so far she seems to have a good eye for screenplays. Her portrayal of Munachi was on point. 
And what's wrong with Ramsey Nouah? I must say absolutely nothing. He's always a pleasure to watch as well as Mercy Johnson who embodies her characters like no other. 
No complaints about direction, sound, and picture quality. It was great. 
Hats off to The Nollywood Factory and Rok Studios. Of all the duds I've watched of late, this movie was pretty good. RECOMMEND