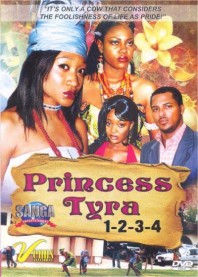 Title: PRINCESS TYRA (1 & 2)
Sequel: ROYALTY (1 & 2)
Starring: Jackie Appiah, Van Vicker, Yvonne Nelson, Oge Okoye

Synopsis: 
Life isn't perfect for two royal princesses. Princess Tyra is betrothed to a prince who is in love with her maiden while Princess Elizabeth can't produce an heir to the throne. 
This is a modern day saga. Tyra (Yvonne Nelson) is betrothed to Prince Kay (Van Vicker) but he can't stand her. He has no interest in the royal pampering and has no use for the snobbish Tyra. Instead he has his eye on one of her maidens, Mefie (Jackie Appiah).
Mefie can't believe the prince would take an interest in her but he's attracted to her beauty and humility. He impregnates Mefie and not only is Tyra crushed by the news, it also causes the royal family embarassment.
The prince leaves the country for his studies before he learns of Mefie's pregnancy. When he returns to find her, he instead finds her twin sister and this commences the twist in the story.
Meanwhile, across the land Princess Elizabeth (Oge Okoye) is under pressure to produce an heir. She forces one of her servants to sleep with her and has plans to carry off the child as the King's.  
Let's Talk. Although this movie displays people who are still living in ancient times, it is well balanced with characters that live by today's standards. The subplots focus on Princess Elizabeth who takes desperate measures to produce an heir and Agnes (Kalsoume Sinare) who is dying of cancer and discloses major secrets on her deathbed.
One point worth mentioning is the scene where Mefie is shot. Why didn't the prince investigate the shooting or question his Mom and Princess Tyra about it? They were the beginning and end of her enemy list.
The casting here is excellent. Yvonne Nelson is believable as the uppity b*tch of a princess while Jackie Appiah steals the show with her performance as an orphan/maiden. All of the stories intertwine really well and the movie moves at a fair pace. Two thumbs up. Very entertaining. RECOMMEND
Rated: R
Genre: Drama
Release Date: 2007
Directed by: Emma Ayalogu, Frank Rajah Arase
Starring: Oge Okoye, Rama Brew, Gavivina Tamakloe, Kofi Adjorlolo, Jackie Appiah, Kalsoume Sinare, Roselyn Ngissah, Van Vicker, Yvonne Nelson
Written by: Frank Rajah Arase, Phil Efe Bernard, Chisom Okereke
Country: Ghana