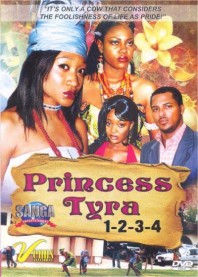 Title: PRINCESS TYRA (1 & 2)
Sequel: ROYALTY (1 & 2)
Starring: Jackie Appiah, Van Vicker, Yvonne Nelson, Oge Okoye

Synopsis: 
Life isn't perfect for two royal princesses as one is betrothed to a prince that doesn't love her while the other can't produce an heir to the throne. 
Tyra (Yvonne Nelson), a snooty princess, was betrothed to Prince Kay (Van Vicker) but he couldn't stand her. He had absolutely no interest in royal pampering and he had even less patience for her arrogant ways. But someone had the Prince's heart and it was none other than Mefie (Jackie Appiah), who happened to be Tyra's maiden. 
Mefie couldn't believe the prince would take an interest in her but he was attracted to her humility and natural beauty. The two secretly had a relationship and Mefie later realized she was pregnant. It was embarrassing for the royal family and Tyra was crushed by the news. 
The prince left town before he learned of Mefie's pregnancy and when he returned to find her, he found Mefie's twin sister instead, which commenced the twist in the story. 
Meanwhile, across the land, Princess Elizabeth (Oge Okoye) was under pressure to produce an heir. Out of sheer desperation she forced a servant to sleep with her and had plans to carry off her unborn child as the Kings'.  
Let's Talk. This is a modern day royal saga. Although it displayed characters that were hung up on ancient traditions, it was well balanced with characters that lived by today's standards. 
The subplots focused on Princess Elizabeth who took desperate measures to produce a child and also, Agnes (Kalsoume Sinare), a woman that was dying of cancer and disclosed major secrets on her deathbed.
The theme was the clash of social class and status. The poor intermingled with royalty which was forbidden, shameful, and ultimately troublesome. 
One point worth mentioning is the scene where Mefie was shot. Why didn't the prince investigate the shooting or question his mother and Tyra about it? The two women were the beginning and end of Mefie's enemy list. This is where the story became questionable because the prince should have instantly suspected them. Other than that, the story was captivating and kept one's interest.
The casting was excellent. Yvonne Nelson was believable as the uppity b*tch of a princess while Jackie Appiah stole the show with her performance as an orphan/maiden.
Overall, the plots intertwined really well and was very entertaining. Two thumbs way up. RECOMMEND
Rated: R
Genre: Drama
Release Date: 2007
Directed by: Emma Ayalogu, Frank Rajah Arase
Starring: Oge Okoye, Rama Brew, Gavivina Tamakloe, Kofi Adjorlolo, Jackie Appiah, Kalsoume Sinare, Roselyn Ngissah, Van Vicker, Yvonne Nelson
Written by: Frank Rajah Arase, Phil Efe Bernard, Chisom Juliet Okereke
Country: Ghana