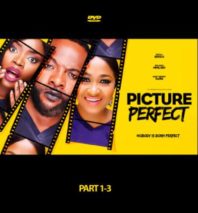 Starring: Mary Remmy Njoku, Bolanle Ninalowo, Bisola Aiyeola
Synopsis:
A night of car trouble turns a woman's life upside down when she meets a thug that incorporates himself into her life.
Review:
Kumbi (Mary Njoku) was a tailor on the rise. As a dedicated fashion stylist she dressed many including celebrities. On her way to delivering a dress one evening, she encountered car trouble. Stuck in an isolated area, she happened upon Jobe (Bolanle Ninalowo), a local thug, who called a taxi and offered to watch her car overnight.
On the following morning, Kumbi arrived with a mechanic and her car was fixed on the spot. She was about to drive off but Jobe stopped her when she failed to tip him. Insulted, words were exchanged and Jobe had to settle for what she offered him. But this wasn't the end of him.
Adamant about being a nuisance, Jobe camped out in front of Kumbi's shop everyday and played loud music while he smoked and drank. When she had enough she had him arrested which led to a big fight and then an enlightening discovery. Then Kumbi's online love affair tanked and she found herself knockin' boots with Jobe which, led to more conflict. He certainly wasn't the life partner she envisioned and because he wasn't as refined as she was, she ill-treated him.
Let's Talk. A fashion designer and a hoodlum? How likely is that? Not very, right? But that was the essence of the story. It wasn't a love story by any means but rather a tale of contrasting characters that were forced to find a place of peace.
While some women seek that "perfect 10" man – you know, good looks, wealth, a six-pack, and other attributes, Jobe (Bolanle Ninalowo) was lucky if he had any appealing qualities as far as Kumbi was concerned. He was rough around the edges and yes, the bad boy works for some, but it wasn't what Kumbi was looking for.
The mismatched pair was an engaging watch for the most part. They went full circle from strangers to adversaries to lovers and then practically back to strangers when Kumbi realized she had no use for him. 
Of course, there were bothersome details in the story such as when Kumbi's car stopped on the road. Don't they have roadside assistance plans in Nigeria? How convenient that her phone stopped also. And how did Jobe know where to find her shop?
The best scene and also most effective was the one where Kumbi berated Jobe and told him that he was "nothing." It was a pivotal point in the story because if you didn't care for Jobe before, you did then. He was literally transformed from goon to human. 
The one thing that was true to life was in regard to the pregnancy. Babies are a gift from God in more ways than one. They can have a positive effect and result in one suddenly desiring to excel in life. A child brought about change in the Jobe character. He abandoned the street life in order to take on the role and responsibilities of a father. This was a very touching detail in the story. 
The movie incites a few questions. Are "rough necks" only good for sex? Do we kick them to the curb when we're done with them? Or do we dig to see what more lies beneath the surface? Are women missing out on substance? How many times have we overlooked a good man because he wasn't picture perfect? 
As for performances, with every movie Mary Remmy Njoku reveals more of her acting ability. Co-star Bolanle Ninalowo is clearly equipped with a versatility that makes him ripe for Nollywood or Hollywood. An actor can only pray for a role that showcases their true talent and this may have been that role for him. 
I give this movie props for being different. No human is perfect and everyone deserves to be treated fairly. That was the spirit of the movie and it should be the law of the land. RECOMMEND