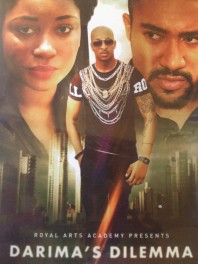 Starring: Majid Michel, Mbong Amata, Ikay Ogbonna, Diana Yekini
Synopsis:
A woman finds herself in a web of lies when she lives life impersonating her deceased twin sister.
Review:
Darima and Dise (Mbong Amata, both roles) are identical twins. Darima is married with an outgoing personality while Dise is single and uptight.
After pressure from her ex-boyfriend, Darima risked her happy marriage to spend some time with him. She asked Dise to take her place at home so that her husband would be clueless about her whereabouts.
Dise was reluctant to play the game at first but later buckled. She pretended to be Darima and Joshua (Majid Michel), Darima's husband, could not tell the difference. She managed to avoid sex with him and when the time came for the charade to end she got a disturbing phone call; Darima and her lover were killed in a car accident.
Since Dise was impersonating Darima, everyone believed that Dise was the twin that died. Dise couldn't bring herself to tell Joshua that it was his wife that was killed. This would expose the scheme and the fact that Darima was cheating on him.
For months, Dise continued living with Joshua as his wife.  During that time she inadvertently dropped hints that she wasn't Darima while she fell in love with him. Joshua ignored all the red flags and continued to love the woman he believed to be his wife.
Happily ever after? Of course not. There was one loose end – Bibi (Diana Yekini). Bibi was Darima's best friend and the only other person that knew of her whereabouts on the day she died. Would she keep the secret?
Let's Talk. In order to appreciate this movie, you first need to buy into the fantasy that one sister can successfully impersonate the other. You have to believe that a man can sleep with another woman and actually think she's his wife. Once you swallow this pill everything else will be smooth sailing.
The truth of the matter is that Joshua saw signs that Dise wasn't Darima during their time together. The worst thing the writers could have done was make the Joshua character a complete fool but they didn't. As he subconsciously realized the truth, love led him to continue playing the game.
Joshua was such a perfect husband that it raised an important question – why would Darima cheat on him? We barely got a glimpse of her ex-boyfriend so it's not clear what she saw in him besides sex. And even that's questionable because her husband, Joshua, was always "ready."
The point came in the story where if Dise came clean about her true identity, she not only risked exposing Darima's secret but she also risked Joshua hating her. She had fallen in love with him and insecurity set in when she thought of telling him the truth.
When you think about it, exposing her sister's secret wasn't so detrimental because Darima was dead. Of course the news would hurt Joshua and it would also result in her parents devastation all over again.
One important detail in the story is that no one inquired about the guy that was killed in the car accident with Darima. Had they done so it may have led to answers.
The bottom line is that Dise gave up her identity and her job and put herself in a position where she was obligated to sleep with her sister's husband. For what? Was it just to protect her sister's secret or maybe she subconsciously had feelings for Joshua all along? Hmm….
Despite the questions and the unlikelihood of the story, I still enjoyed this movie. I allowed myself to get caught up in the fantasy and hey, that's why I watch movies – to escape reality for a few hours. It successfully distracted me from my daily grind.
"Forgetting June" is another Nolly movie where Majid and Mbong played a married couple. I thought they had no chemistry in that movie. There was no sizzle, no spark. Here, the rapport between them was better for some reason. I believed them as a couple this time around.
As for performances, Mbong did a good job playing both Darima and Dise. There were clear distinctions between the two characters and she displayed an array of emotions as the guilt ridden Dise.
Majid Michel is an African movie star so what more can I say? He's a top-notch actor and although I didn't really care for two of his recent movies, "Brother's Keeper" and "Erotic Crime" I think he did justice to his role as "Joshua." As for Ikay Ogbonna, is it me or does it seem like he keeps playing the same character over and over again?
Overall, this movie offered just enough of a thrill to sustain an audience. Movies where twins are center stage can be tricky especially if one actor plays both roles and this is where the talent came in.
"Darima's Dilemma" is an improbable story but it was made to entertain and achieved its goal. RECOMMEND