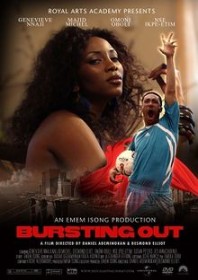 Title: BURSTING OUT (1 & 2)
Starring:  Genevieve Nnaji, Majid Michel, Nse Ikpe-Etim, Omoni Oboli, Uti Nwachukwu
Synopsis:
A career woman with no time for romance falls for a man that covertly worked as a bike messenger.
Review:
Zara (Genevieve Nnaji) ran her own consulting company. Her life was all work and no play and she remained happily single. The Nigerian culture dictated that women should marry and her friends pressured her about finding a husband but there seemed to be no man on the horizon. 
Her friend, Tena (Nse Ikpe-Etim) set her up with a few dates but none worked out. Zara was willing to wait for the right man and she wasn't about to fake her feelings for anyone.
There was a Valentines Day bash coming up and Zara needed a date. Tena, once again, hooked her up with a man – this time, Tyrone (Majid Michel). Tyrone picked Zara up at her home and at first she perceived the evening to be strictly business but as the night progressed there was an attraction that they both tried to ignore.
After a pleasant evening of dancing, drinking, and laughter, Tyrone followed up with a phone call the next day. Zara was impressed with his assertiveness and as one thing led to another they were officially dating. But who was Tyrone?
It wasn't long before Tyrone's past surfaced. He was a football player that was kicked off the team due to rape charges. He claimed he was framed and while he waited to be reinstated to the team his bank accounts were frozen. Therefore, he was forced to work as a bike messenger –a job that he held secret from the upscale Zara.
Adding fuel to the fire, Tyrone's ex-girlfriend was determined to get him back.  The question became was Tyrone the man for Zara or just another dud?
Let's Talk. This is a romantic drama that started off on the slow side but improved once it got to the core of the story. It's basically a rich woman/broke guy love story….sort of.
The script went around in circles as it dealt with Tyrone's football suspension, his financial issues, and his psycho ex-girlfriend. Zara's problem pertained to her ego as she almost allowed financial status to get in the way of true love. 
The subplot centered on Zara's employees who were all intimated by her except one – Daniel (Kelechi Udegbe). Daniel convinced himself that Zara was in love with him and his delusional thoughts added humor to the story. 
The movie proves that love is a force beyond all others. While Zara was a wealthy woman she couldn't deny her feelings for the "regular" guy. They were both out of the other's league but love waited to triumph.
The acting was pretty good and the spark between Majid and Genevieve was fantastic. They looked good together and it was easy to root for them.
One of the best lines in the movie was when Tyrone said to Zara that "the most attractive thing about a woman is her mind." True dat!
As for technical issues there were some sporadic problems with sound. This is the norm for African movies. Hopefully, filmmakers will get this right sooner than later.
"Bursting Out" was a typical love story but it was easy to watch and featured some of Nollywood's best. RECOMMEND
Rated: PG-13
Genre: Romantic Drama
Release Date: 2010
Directed by: Desmond Elliott, Daniel Ademinokan
Starring: Ime Bishop Umoh, Omoni Oboli, Susan Peters, Moyo Lawal, Amanda Ebeye, Genevieve Nnaji, Majid Michel, Uti Nwachukwu, Nse Ikpe-Etim, Kelechi Udegbe
Written by: Bola Aduwo, Uduak Isong Oguamanam
Studio: Royal Arts Academy
Country: Nigeria