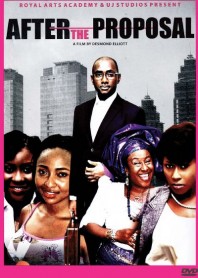 Starring: Uche Jombo, Patience Uzokwor, Anthony Monjaro, Belinda Effah
Synopsis:  
After eight years of courtship a couple finally gets engaged only for the wedding to become a question when the groom can't pay the bride price.
Review:
Mama (Patience Ozokwor) was on a mission to get her three daughters married; not just to men but to men of financial means.
Two of her daughters were single with no men on the horizon while Mary (Uche Jombo) had been dating Kenneth for eight years. Mama always pressured them to tie the knot but Kenneth (Anthony Monjaro) just wasn't ready. His career seemed to look upward when he received a new job offer and it prompted him to finally pop the question. Mary didn't hesitate for one second to accept his proposal.
In order to have a traditional wedding, Kenneth was required to pay a bride price. The town elders determined the price and they set it to an exorbitant amount that Kenneth couldn't pay. This was a threat to their matrimonial life together, but Kenneth sort ways to raise the money.
At first Kenneth tried to get the items on the price list for cheaper and he negotiated with vendors. When that didn't work he asked his father for a loan, which was refused. All seemed lost and he wished he could get a salary advance from his new job but he hadn't even started it yet.
Mary pleaded with Mama to talk to the town elders about reducing the price but she instead criticized Mary for choosing a broke man.
On Kenneth's first day on the new job it became clear why he was offered the position. Lisa (Keira Hewatch) was his new boss and she was attracted to him. She was the type of woman that always got what she wanted and she didn't accept "no" for an answer. She shamelessly flirted with Kenneth and he found himself in a precarious situation.
Kenneth sought advice from his friend and he was advised to "go for it," since Lisa was a successful and attractive career woman. Ken toyed with the idea of using Lisa for money so he could spend it on Mary and pay the bride price. Hmm, decisions, decisions…
Let's Talk. This movie had me at hello. The second I saw Patience Ozokwor at the top of the movie playing the mother I knew I was in for a ride. "After the Proposal" displayed a normal family, each with their own share of issues, but it focused on Mary's ordeal and Mama's desire to see her daughters married.
The story could easily be followed up with a sequel that centers on Mary's sisters. It could focus on Oyinye's (Belinda Effah) secret nightlife while Betty (Therresa Edem) searches for Mr. Right. (Just thinking out loud here but this is indicative of how well the characterization was in the movie. )
The movie offered a modern and traditional storyline while it addressed the validity of old traditions and the scarcity of available men for women seeking marriage. 
As for traditions, the town elders who set the terms of the bride price treated Mary as though she was a product. They even suggested, "charging more for her." These elders never stepped up to plate to help Mama when her husband died, and they never assisted with her daughters needs, so the question became what qualified the town elders to set any terms in Mary's life? Was tradition still a legit reason?
It was later revealed that one of the elders had a personal agenda and orchestrated the huge bride list to block Mary's wedding. 
The lack of funds on Kenneth's part led him down a path of temptation. And while the script afforded him the opportunity to get money in a morally unjust way, he took the high road and stayed true to his character.
One humorous scene in the story was when Kenneth's friend suggested that he marry a Dominican because Dominican women are GFF – Girls For Free, meaning no bride price. Funny! His friend, played by Shawn Faqua, served as a voice of reason although his advice wasn't always the best. 
Performances were on point. The characters were appropriately cast and the family dynamics felt genuine. If nothing else, "After The Proposal" gives single women hope that there are still some good men out there. RECOMMEND