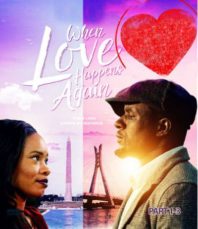 Starring: Weruche Opia, Oreka Godis, Udoka Oyeka, Enyinna Nwigwe
Synopsis: Mo's association with a notorious client sparks rumors that causes her boyfriend to become jealous.
Review:
Mo (Weruche Opia), an ambitious event planner, started her own business and lucky for her she landed her first client – billionaire Lade Adenuga. The assignment required her to travel from Nigeria to Washington DC and she did so with her bestie, Tseju (Oreka Godis).
Lade was no stranger to paparazzi and when he was photographed with Mo, rumors swirled that they were romantically involved. But Mo had a boyfriend back in Nigeria, Tobe (Udoka Oyeka), and while he kept up with the gossip he began to believe it. He feared he would lose Mo to Lade so he travelled to Washington to "surprise" her.
The subplot followed Zainab (Marie Droz), another friend of Mo's, who believed her boyfriend was cheating and resorted to spying on him.
Let's Talk. This movie is the follow-up to the original movie "When Love Happens." When we left off, Mo (Weruche Opia) found true love in her longtime male friend, Tobe played by Gideon Okeke. This time around Tobe was played by Udoka Oyeka which immediately distorted believability in the story if you saw the prequel.
Seeing a new face play the same character was a turn off. The writers should have just given Mo a new boyfriend with a different name. After all, this isn't a television series where character continuity is required. The title "When Love Happens Again" would have still been appropriate and one line of dialogue could have easily explained Mo's new love and made the new actor acceptable.
Comparing both actors is pointless because the sequel is irrelevant. Here we have a story anchored around Mo and a possible affair with a billionaire but it was bland. Lifeless. The writers should have at least teased us with a chance of forbidden romance. There wasn't enough flirting or temptation between Mo and Lade to stir excitement and their chemistry was nonexistent.
There were story issues. For instance, when Tobe didn't communicate with Mo because he lost his phone why didn't he just use his friend's phone? Is it possible that he didn't know his girlfriend's number? Couldn't he have emailed her? Also, as the main characters in the story, Mo and Tobe weren't in scenes together until the end, therefore, the audience wasn't familiar with them as a couple for most of the movie.
What was evident is the challenge of creating a sequel that's as good, if not better than the original. This version was a far cry from the first movie and not nearly as captivating. It had no substance and it was overwritten with too much dialogue.
In addition to a feeble story, the female comradeship wasn't convincing and bringing back the Jennifer character was pointless. It's difficult to believe that these are the same writers that wrote the original movie which, was enchantingly upbeat and relatable.
Performances? The actor that played Lade didn't have the aura of wealth necessary to pull off the part. Other performances are not worth talking about.
Needless to say, this was an unequivocal letdown and love didn't happen. EJECT
Rated: Not Rated
Genre: Romantic Drama
Release Date: 2017
Directed by: Seyi Babatope
Starring: Udoka Oyeka, Stanley "Funnybone" Chibunna, Enyinna Nwigwe, Germaine Brooks, Chief Obi Henry Obiefule, Marie Humbert-Droz, Diana Yekini, Weruche R. Opia, Oreka Godis, Jimmie Akinsola
Written by: Seyi Babatope, Temitope Bolade, Diche Enunwa
Studio: PHB Films