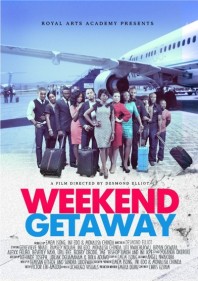 Starring:  Genevieve Nnaji, Ramsey Nouah, Ini Edo, Monalisa Chinda, Alexx Ekubo

Synopsis: 
A weekend excursion appears to be the antidote for failing relationships as couples stay at a hotel to resolve their issues. 
Review:
This movie consists of multiple, recycled, storylines. All of the characters lodge at the Le Meridien hotel where they hoped to have a good time while rekindling romance.
Monalisa Chinda played Yolanda, a "cougar" that spent the weekend with her younger boy-toy. While he wanted to hold onto her, she couldn't help but to berate him because of his age and financial status. There was no dignity in their relationship and he even checked out other women in her presence.
Another couple was Angela and Segun (Beverly Naya and Bobby Obodo). They wanted to renew their lost romance but argued continuously. 
And then there was April (Genevieve Nnaji) who was some sort of spy. She had been texting a blind date and they agreed to meet at the hotel but he wasn't her only agenda.
When the blind date arrived at April's room, it was the hotel maid (Ini Edo) that greeted. him.  The maid wasn't in uniform but instead she was wearing April's dress. The guy believed the maid was his date and she never corrected him.  
Cut to Dr. Mark (Ramsey Nouah) who ran into his ex-girlfriend at the hotel with her new husband. He pretended he too moved on and that he was married. He convinced his employee to play along as his wife but he was unaware that she really was in love with him.
Let's Talk. Unfortunately, "Weekend Getaway" is a low rent version of the Hollywood movie "Maid in Manhattan" and Tyler Perry's "Why Did I Get Married?" In addition, it was sprinkled with a fake James Bond twist.
The movie attempted to combine romance/drama with espionage/suspense and it simply didn't work. What does work are all scenes Ini Edo was in. The complication between her character and the hotel cleaner (Bishop Ime Umoh) provided much needed humor. There were other hilarious moments throughout that made the lackluster drama forgivable.
As for acting, performances were so-so. Beverly Naya and Bobby Obodo played a couple but they were simply not interesting enough to care about. They came across as immature siblings instead of a married couple. Fast forwarding their scenes was necessary. Sigh….Other than that, the movie was fortunate enough to have a star-studded cast. 
Ultimately, "Weekend Getaway" is a perfect example of a movie that leaves you on the fence. It has the movie stars, good story lines, lavish views, and quality picture, but somehow it failed to launch.
At the end of the day "Weekend Getaway' was simply a 130-minute advertisement for the Le Meridien Hotel. A very reluctant RECOMMEND
Rated: Not Rated
Genre: Drama
Release Date: 2012
Directed by: Desmond Elliott
Starring: Genevieve Nnaji, Monalisa Chinda, Alexx Ekubo, Beverly Naya, Ini Ikpe, Uti Nwachukwu, Ramsey Nouah, Ini Edo, Bobby Obodo
Written by: Anthony Kehinde, Joseph Uduak Oguamanam, Bola Aduwo
Studio: Royal Arts Academy
Country: Nigeria