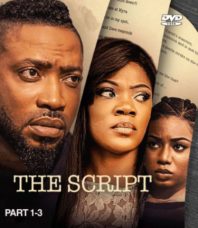 Starring: Frederick Leonard, Bayray McNwizu, Jennifer John, Bryan Emmanuel
Synopsis:
A popular actor disillusioned with his wealthy girlfriend becomes romantically involved with a new woman only to be betrayed by her.
Review:
Dave, an actor on the rise, got word that his well-to-do girlfriend purchased an engagement ring and pronounced herself engaged to him on social media. He had not proposed to her and it was just another turn-off in the relationship. He began to see her true colors – a spoiled rich girl with no life purpose, and he leaned toward breaking up with her.
He later met Myra (Bayray McNwizu) under hostile terms but things turned romantic when he learned they were in the same business. She was a Nollywood scriptwriter but little did he know, his personal life would become the topic of her next screenplay.
Let's Talk. This is a romantic drama that had all the ingredients of a good story but somehow was anything but. It commenced with Dave's relationship with his pretty and brainless girlfriend which was super boring. It then skipped to his cliché relationship with Myra where they started off as enemies that morphed into lovers.
When it came to the writing, there were just too many coincidences. Dave and Myra initially met at the gas station, and then they ran into each other at the supermarket, and again at a restaurant, and when Myra had car trouble, guess who just happened to be in the neighborhood to help? And then when they went out for the first time Dave's girlfriend appeared at the same facility. Sigh… Come on now.
Some of the dialogue was bothersome. For instance, Myra was called a derogatory name for dating an engaged man but what do we label an engaged man who dates outside of his relationship? Is he not a lying, cheating, dog?
The only reason a woman would be dating another woman's man is because he led her to believe there's opportunity. So let's be sure to chastise fairly because ultimately, it boiled down to Dave's respect for his relationship.
Story execution wasn't the best. It wasn't clear that Myra was writing a script until near the end. The scene where she feared Dave had gotten a copy of her scandalous screenplay should have been the climax of the story but it fell flat because the writer disclosed the pertinent details in a flashback that came afterward.
Furthermore, the relationship between the main characters, Dave and Myra was underdeveloped. Watch the Nollywood movie "Love Regardless" to see how a new relationship was developed that took the audience along for the ride, and successfully created spark between the characters. Then compare it to this one…
There were also holes in the story such as when Dave found out about the script and was furious. There should have been a line or two that showed us what part of the script really pushed him over the edge. After all, the title of the movie is "The Script" yet its contents were so vague.
In terms of performances, Frederick Leonard and Bayray McNwizu are talented actors that work well together but in no way could their strengths compensate for story flaws.
Video sufficed, sound was in need of improvement.
"The Script" is basically a cheap knock-off of the Hollywood movie "The Best Man" which had a similar concept where the main character also penned real life events camouflaged with a little fiction but this movie was nowhere near as captivating. EJECT