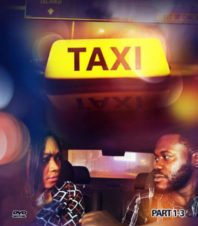 Starring: Ebele Okaro, Tana Adelana, Deyemi Okanlawon
Synopsis:
An award-winning writer in preparation for his next screenplay takes up driving a taxi, and while learning the ropes he picks up an interesting passenger.
Review:
Chidi (Deyemi Okanlawon), a Nollywood writer, had a new idea for a movie. He decided to write about the adventures of a taxi driver while channeling his deceased father who also drove a taxi. While researching the occupation, he drove his father's abandoned taxi, and in the process picked up many strangers.
One passenger was Feyikemi (Tana Adelana), who needed a ride to her fiance's home. Chidi drove her there and when she arrived, she got a disappointing surprise. It turned out to be a challenging day for her and while Chidi consoled her, he became wrapped up in her life.
Let's Talk. This is a drama that meant well. We have a character trying to connect with his deceased father and as he does so, he met potential love interest, Feyikemi. The story then revealed her problematic life and Chidi became her knight in shining armor…so to speak.
The story started off with drama from Chidi's passengers. As he encountered various customers he also got an earful of their secrets, lies, and issues. It's true that drivers, especially chauffeurs, know juicy details about clients they drive around and this is how the story touched on this.
The passengers, however, weren't an integral part of the story and unfortunately their storylines didn't conjure up enough interest. If anything, their scenes felt like fillers for the story.
It took a while before we finally saw Tana Adelana who played Feyikemi. Her presence represented the romantic angle but it fell flat because there wasn't enough sizzle for the audience to root for the couple. The relationship needed further development in order to sell the promise of romance after the credits rolled.
Chidi's relationship with his late father was probably supposed to be the touching part of the story and it worked to some degree. He got to experience his father's daily life and penned it into a script.
As for performances, ehh, they were okay. Tana Adelana had the best role but as mentioned above her chemistry with Deyemi didn't incite butterflies.
Audio and video sufficed.
At the end of the day, the filmmakers had grand intentions but this movie failed to excite. EJECT