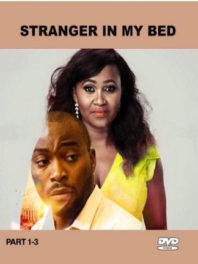 Starring: Mary Remmy, Seun Akindele, Jide Kosoko, Moyo Lawal
Synopsis:
An up and coming lawyer is hired by a prominent man to obtain evidence of his wife's infidelity but the investigation yields unexpected results.
Review:
After five years of marriage, Faith (Mary Remmy) and Ade (Seun Akindele) were still at the honeymoon stage. They were affectionate and obviously a match made in heaven.
Faith practiced law and was hired to find evidence of probable cause in order for her client, Chief Taylor, to divorce his wife. After some misgivings, Faith accepted the assignment hoping to make a name for herself amongst the wealthy. Her staff began trailing the Chief's wife and at first it appeared to be a waste of time until the shocking truth was discovered.
Let's Talk. Adultery. Is anyone loyal anymore? Has marriage become a joke? The most common problem with infidelity movies is that the reason people cheat isn't always thoroughly explored.
In this story we had a wealthy older man married to a young sexy wife. He believed she was disloyal because he had no access to her locked cell phone. Yes, it's true that people can harbor a secret life thanks to technology, however, is that really enough to suspect infidelity? Well, nonetheless, the Chief's gut instinct led to an investigation and the truth.
The question became did the Chief's wife marry for money? Did she just need sex from a man more her age? How did she lure her lover into her web? These unanswered questions were the deficiency in the story.
Another fault was that the target was followed in a red car. Really? Who wouldn't notice a red car constantly in the same vicinity as they are? The Chief's wife eventually realized she was being trailed but she thought it was a kidnap attempt. Why didn't her lover tell her that she was under surveillance? He knew this for a fact! Tsk, tsk.
At one point the movie became a little weary. It got too wordy while the action was slow to come. Ultimately, it was predictable. The writer gave massive clues as to how the story would conclude.
In terms of performances, I actually liked the characters. Seun and Mary were compatible as a young, successful, couple.
Moyo Lawal played the Chief's wife and it's unfortunate that she didn't have a bigger role. She has an engaging presence about her that translates in her scenes.
Minus a few imperfections, "Stranger in my Bed' was an easy watch. Movies featuring extramarital affairs will be produced until the end of time but for this one, the attraction will most likely be the actors and not necessarily the story. RECOMMEND