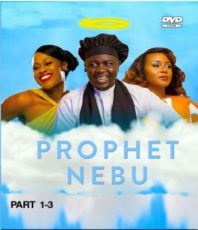 Starring: Desmond Elliott, Uche Jombo, Seyi Law
Synopsis:
Two women, desperate to get married consult Prophet Nebu, a fake spiritualist and con artist.
Review:
Three friends, Trisha, Bimbo, and Ufuoma, were shocked to learn that one of their colleagues was suddenly married and pregnant. Rumor had it that the woman enlisted the help of a spiritualist and shortly after, all of her dreams came true.
It was a far fetched idea for Trisha (Uche Jombo) but when her boyfriend refused to take their relationship to the altar and Bimbo (Nsikan Isaac) found out that her boyfriend was married, they both wound up at the Church of Jehovah Bluetooth, home of Prophet Nebu.
Prophet Nebu (Seyi Law) claimed to have all the answers as well as the ability to connect to the holy spirit through wifi. When his solutions to Trisha and Bimbo's issues didn't work, they set out to get their money back.
Let's Talk. This movie humorously depicts the lengths some women are willing to go to in order to get married. Creeping up in age and family pressure to produce children caused these women to take the supernatural route to love. Unfortunately, concoctions and mysterious anointing oils didn't produce the miracles they were seeking.
Humor kicked in with Prophet Nebu who pretended to communicate with the holy spirit on behalf of the women. He told women what they wanted to hear all while collecting hefty fees for futile services.
This movie speaks to single women all over the world. The idea here is to pray not prey. The story encourages women to pray to God and not prey on men for the sole purpose of getting married. Also, women shouldn't allow anyone to prey on their desires as the prophet did in this story.
Taking advantage of women is also done by men that women date. Sometimes men lead women on just to get to the sexual part of the relationship and then it's a wrap – it's over, no marriage, and women are left disappointed and back at square one.
One noteworthy scene is the one where Bimbo found out that her boyfriend was married. His wife walked in on them in a restaurant and proceeded to physically abuse Bimbo but not her husband!! It's disturbing that women blame the "other woman" when it's their husband that cheated!!
Here's what the "other woman" owes the wife – absolutely nothing!! It's the husband that owes his wife love, loyalty, and respect and if he broke his promise then you beat his ass. Women fighting over a cheating man couldn't be more pointless.
Performances? Pretty good. Desmond Elliott and Uche Jombo teamed up, once again, as love interests while Seyi Law brought the laughs as Prophet Nebu – a befitting role for him to play.
This movie was made in the name of fun and sometimes we have to take a load off and just have some laughs. This story fit the bill and as silly as it is, it touched on a global issue for women while stirring in drama and comic relief. 
Surely there are women who can relate to these characters but not necessarily their tactics. And for those who wish for married life, it's best to be proactive as you wait for God's time. RECOMMEND