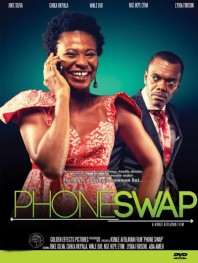 Starring: Nse Ikpe-Etim, Wale Ojo, Joke Silva, Lydia Forson
Synopsis:
Two strangers that heedlessly swapped phones after a bodily collision also traded lives for a weekend.
Review:
Mary (Nse Ikpe-Etim) and Akin (Wale Ojo) were complete strangers whose lives inadvertently crossed. Mary was a seamstress that not only worked for a demanding boss; she recently found out that her boyfriend was married. Adding to her woes, she was summoned home to the village by her father to help sort out family matters.
Akin was a "go-getter" that had recently split with his girlfriend. He had to deal with an overbearing mother as well as politics at the office when the whereabouts of his company's retreat was kept secret from him.
Mary and Akin were both at the airport when she was on her way home to Owerri while Akin headed to Abuja believing the company retreat would be held there. Amidst the crowded airport, they suddenly collided and their phones slipped away from them. When they regained their bearings, they unknowingly retrieved the other's phone and went about their business.
Believing that Mary's phone was his, Akin received a text regarding "Owerri" and thought it was his assistant informing him about the secret location of the retreat. He immediately changed his flight and headed there while Mary got on the wrong plane and landed in Abuja.
They later realized the phone mix-up but there wasn't much they could do other than deal with the situation and tend to each other's affairs.
Let's Talk. This is a well-written "dramedy" comprised of conflict and humor – a winning combination. Although there were several plots, they all made sense and didn't venture away from main characters purpose in the story.
The humor was that an uptight businessman was forced to spend his weekend in a rural village while a seamstress uncovered why he wasn't welcome at his company's retreat.
While Akin had to adjust to sleeping on the floor and eating without cutlery, Mary spent time with Akin's mother and learned that the mother's devoted love for her son was borderline unhealthy. While Mary and Akin only met in passing, they learned quite a bit about each other during the weekend.
What's impractical about the movie was that two strangers would actually wind up with the other's phone AND end up at the other's destination. Also questionable was that Mary boarded a flight to Abuja with a ticket to Owerri. But the movie was so enchanting that logic was easily ignored.
The heart of the story was the connection and budding relationship between Mary and Akin. Writer, Kemi Adesoye, found places to insert touching and humorous moments that kept the movie magnetic.
The tale ended on a happy note with promised romance between the main characters although they seemed to have little in common.
Performances? Nse Ikpe-Etim aced it and Wale Ojo was perfection. He gave the character a rigid demeanor with a professional air that was effective and compelling to watch.
"Phone Swap" is a hit! It was finally released in New York three years after it's initial release. Was it worth the wait? Absolutely. RECOMMEND