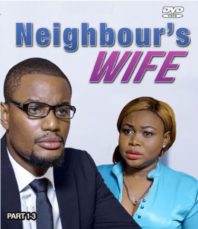 Starring: Alexx Ekubo, Ruth Kadiri, Daniel Lloyd
Synopsis:
After his wife left him for his married neighbor, Ben became acquainted with the said neighbor's wife.
Review:
Ben (Alexx Ekubo) was a hardworking man but his wife became disillusioned with him. She took an interest in Wale (Daniel Lloyd), their neighbor, and she believed she had a future with him. Both married to other people, the two left town and shamelessly frolicked.
Meanwhile, back at home, Ben became familiar with Wale's wife. They were both in the same boat as deserted spouses and they shared the responsibility of getting their kids to and from school. Romance soon followed as one thing led to another…
Let's Talk. This is a story of two marriages in disarray that unwittingly traded spouses. Once partners were exchanged, one couple worked out while the other didn't.
What the movie touched on was domestic abuse where the husband was the victim. Ben suffered verbal and physical abuse from his wife yet he never raised a hand to her. She dominated and disrespected him which is normally the case in abusive relationships.
The story was very predictable but there were some humorous moments thanks to Alexx Ekubo. There were also outrageous scenes such as the one where Ben's wife intervened in her lover's marriage. She broke up with her lover's wife for him and she even had divorce papers drawn up. How could she legally file for a divorce when she wasn't a party in the marriage? 
As for performances, they were okay. Alexx Ekubo ventured away from characters he normally plays to portray a mild-mannered, subservient, man. At first I wondered if he was retarded because I didn't quite get the character at first, but it was hilarious to watch him play this type of role.
Sound was horrible and obviously better equipment was needed. The dialogue was low to begin with but then the music really drowned it out. Sooo annoying!! When are they going to find a solution to the sound problem? Don't filmmakers view the movies before they're released to the world? Clearly not.
The final verdict? This movie isn't worth straining your ears for. EJECT