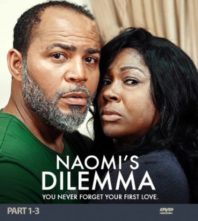 Starring: Ramsey Nouah, Susan Peters, Bimbo Ademoye, Chioma Nwuso
Synopsis:
A woman is conflicted when she learns her daughter is dating her ex-boyfriend from twenty years ago, a man she still harbors feelings for.
Review:
The movie opened up to Kiki (Bimbo Ademoye) returning to Nigeria from the UK. She was looking forward to introducing her new boyfriend to her mother, Naomi (Susan Peters). On that special evening, it was anything but.
Kiki was dating Segun (Ramsey Nouah), a man significantly older than she was. When he arrived at her home and locked eyes with her mother, a quiet storm erupted. Clearly, Segun and Naomi knew each other but both were mum. Naomi immediately excused herself from the room and Segun cut the evening short. Kiki was left bewildered while Segun and Naomi secretly rekindled their romance.
Let's Talk. To get straight to the point, this was a horrible story. First of all, when the evening didn't go as Kiki planned, it was obvious that her boyfriend and mother knew each other. Since Segun was twice her age it was logical for her to think that maybe they had been romantically involved. There's nothing worse than a naive character!!
For days, Kiki went on with no answers while Segun ignored her calls. If he was suddenly avoiding her then she should have wanted to find out why immediately, right? Instead, she went on living in the house with her mother who also gave no explanation. Why didn't she demand answers?
Making matters worse were the Naomi and Segun characters. Why on earth would a grown woman be crying over an ex-boyfriend from twenty years ago? Really? And what kind of mother would knowingly get involved with her daughter's boyfriend?? It would have made more sense to tell her daughter the truth right away in order to protect her.
The Segun character was a piece of sh*t because he abandoned Kiki the same way he did her mother way back when. He should have had the decency to break up with Kiki first before getting involved with her mother. Sigh…
Clearly this script was in need of a rewrite. The circumstances were not fleshed out thoroughly and logic wasn't taken into account. Characters were written to be stupid for story purposes and there was too much hysteria and crying that the story didn't warrant. And don't get me wrong; I love a good scandal but the key word is "good."
Performances were adequate despite the deficient story. Ramsey Nouah is always alluring but pairing him with Bimbo Ademoye didn't work. They seemed like a very mismatched couple. He did, however, fit better with Susan Peters.
There are a number of movies out there where mother and daughter fell for the same man. Nollywood's Silent Scandals is one of them. It too had story issues but at least it had more class. "Naomi's Dilemma" was simply frustrating and unimpressive. EJECT