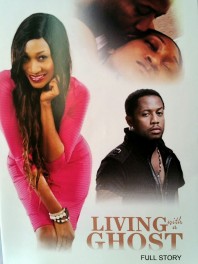 Starring: Mike Ezuruonye, Oge Okoye, Uche Ogbodo, Kehinde Olorunyomi
Synopsis:
Annie questions the existence of her seven- year marriage when she learned that her husband perished in a plane crash prior to her meeting him.  
Review:
Oluchi (Uche Ogbodo) was devastated to learn that Max (Mike Ezuruonye) died in a plane crash while traveling on business. He was her husband and shortly after she buried him, Annie (Oge Okoye) met him for the first time on the street. 
His life and death became a question when Oluchi and Annie ran into each other after years of lost contact. It appeared that Oluchi carried on with her life without Max while he lived life with Annie.
When Max learned that Annie invited Oluchi to their home, he suddenly had to travel to Abuja on business. After it was verified that Max wasn't a twin, Annie had to come to grips with reality…whatever that was. 
Let's Talk. This was a bizarre story that was unexpectedly engaging. It had a lethargic beginning and was even confusing at first but then the intrigue kicked in. 
It's a life after death story where a man lived between earth and the spiritual world. It's also a love story where a human and a spirit refused to let go of each other. 
The movie offers the theory that life and death are both perceptions. It also spoke of the divide between the living and the dead and this is where the main character, Max, dangled. He actually prolonged his trip to the beyond because he wanted to spend time on earth loving his second wife – a wife that he met after he died. 
The scriptures also played a part as it explained that it's against God's laws for spirits and humans to commingle and that only the word of God could succeed at expelling a spirit, good or otherwise. 
We've seen movies of this nature before so the theme where spirits roam the earth is not original. But that's okay because we've come to terms with conventional movies on our movie ratings page. Most movies are the offspring of another.
This type of drama invites the imagination to soar as we wonder what transpires beyond death. What's questionable about the story was that Max's spirit lived on earth yet he never visited his first wife. Did he not love her? And why pursue her friend of all people? 
The cute part was when Annie accepted that Max was indeed a spirit. Her friend advised her to discard him from her life but she instead harbored him in her home. The sad truth is that Annie's perfect man was just a dream. Now that's reality…
Performances? Mike Ezuruonye and Oge Okoye gave this fantasy movie life. It's strange because I don't see much chemistry between them as a couple but somehow they were charming to watch. 
As for technical issues, the sound wasn't the best. Thank God the dialogue was audible but there were all sorts of bangs and loud background noises that were distracting. Direction and picture quality were satisfactory. 
The story was implausible yet enchanting so if you're up for an uncanny love story, give this one a go. RECOMMEND