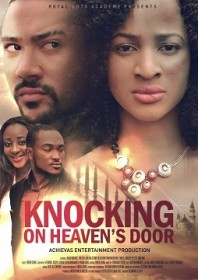 Starring: Majid Michel, Adesua Etomi, Blossom Chukwujekwu, Ini Edo 
Synopsis:
A gospel singer on the rise to stardom hides the fact her husband physically abuses her and tolerated the marriage based on God's word. 
Review:
Debbie (Adesua Etomi) is a talented gospel singer that worshipped God with her voice. She sang the lead in the church choir and was talented enough to become a recording artist. She was married to Moses (Blossom Chukwujekwu) and he appeared to have lost his identity in the marriage.
As Debbie prepared for stardom Moses found any excuse to hit her. She kept the physical abuse a secret and carried on as though all was well.  
Tom (Majid Michel) was the music producer who saw through Debbie's façade. He was impressed with her talent but also sensed her pain. He developed a personal interest in her and worked on her record deal.  
Instead of the music producer being the typical snake in the grass, it was Brenda (Ini Edo), who was a slick journalist with an agenda. Brenda had a history with Moses and as she conspired to get him in her life, she got her hands on some information that she used to make it happen. 
Let's Talk. This movie is a cross between a musical and a domestic abuse drama. There were quite a few singing performances in between the violent marriage of Debbie and Moses.
What became clear about the marriage was that Moses couldn't handle Debbie's success. Just when she was on the verge of signing a record deal she woke up the following morning to find that Moses had not only ruined all of her belongings but also undermined her meeting with the music executives. 
Statistics show that abusive behavior is a learned behavior. Moses was surrounded by violence as a child and witnessed his father beat his mother. His past was partly responsible for his actions and years later it was his wife that suffered instead of his mother.
The movie displayed the vicious cycle of domestic abuse and the abusers need to control. As one spouse continuously forgives, the other continues to strike. 
The number one question that this movie provoked is why did Debbie stay in the marriage? Moses caused her four miscarriages and they had no children together. She was also the breadwinner in the relationship so what logical reason did she have to stay? Love certainly didn't cut it but Debbie justified her loyalty by quoting the bible.
She stated that there are only two acceptable reasons for divorce – infidelity and death. And these two reasons had not come to fruition in her marriage.  
Unfortunately domestic abuse will always be a current topic. If you're a twitter user search #WhyIStayed and #WhyILeft for interesting comments on the matter. In my opinion, the most powerful things a woman can do with her life is not only be self-sufficient, but to own the highest level of self-esteem.  
Performances here were terrific. Adesua Etomi is a true talent and she was a blessing to watch. I wasn't sure I could stomach Blossom Chukwukjekwu in the role of an abusive husband but I survived and he pulled it off.
As for Majid Michel, he appears to be flexing his wings. He danced in "Forgetting June" and here he sung gospel music. I'm not sure I can get used to him doing either but I did appreciate his portrayal of Tom. 
The filmmakers did a fine job of incorporating music, the church, and domestic abuse into one story. The gospel performances were like a breath of fresh air and uplifting.
Overall, there was a sustained spiritual presence that hovered over the volatile relationship, which seemed contrary but it worked. Sometimes in life we question God but what's great about the movie is that it gracefully encourages us to have faith instead. RECOMMEND
Join Us On Follow @TalkAfrMovies