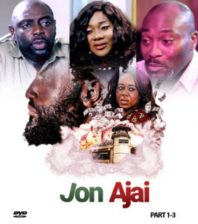 Starring: Moses Samuel, Seun Akindele, Segun Arinze, Mercy Johnson
Synopsis:
After nineteen years in prison, a man who once had it all, returns to society to reclaim a life that was virtually stolen from him.
Review:
Jon Ajai (Moses Samuel) had it made. He was a skilled poker player who was married, wealthy, and good-looking. But one night changed it all when he carelessly drove drunk and killed pedestrians. He was sentenced to twenty-four years in prison for his negligence and the news devastated his wife who later learned she was pregnant with twins.
During Jon's detainment there was a massive fire at the jail and his wife thought he was one of many casualties. She eventually moved on with her life and raised the children who matured to teenagers before Jon was released from prison.
When Jon returned to the free world he was burdened with the task of resuming life after a long absence. He hadn't seen his wife for the entirety of his imprisonment and he was apprehensive about seeing her. He arrived at his home to discover that new owners were living there. Making matters were millions missing from his bank account and his wife's romantic relationship with his best friend, Amos (Seun Akindele).
Let's Talk. This is another movie written by Patrick "Koinage" Nnamani. I haven't really been a fan of his work and from what I've seen so far, Itoro, was his best. I sit here tickled to death to admit that "Jon Ajai" had my motor running. I could tell right away that it was a different caliber of film and I was right…until reality set in.
It's about the journey of Jon, a man that made a horrific mistake, who had to put the pieces of his life back together. His life became a mess due to a foolish decision but life was even more of a shambles when he was released from prison.
The audience got to roll alongside Jon as he realized that he had been betrayed by those he trusted. In addition, he was a new father (to teenagers!) and he felt duped by his best friend who tried to replace him.
As Jon plotted to regain his life, there were other dynamics that were factored into the story but somehow it didn't feel congested. From his re-acclimatization to the free world, to dealing with his wife's affair, and then conspiring to outsmart his vindictive friend, the movie was well layered.
Although the movie was engaging, it wasn't distracting enough to make one overlook the questionable. For instance, it was hard to fathom that Jon's wife (played by Neye Balogun) didn't visit him in prison – not even once! What young wife wouldn't emotionally support their husband? Especially a pregnant wife! And why did Jon accept this? The only way this may have worked was if she was handicapped – and even they find a way to get around!
Also, after the fire, why didn't Jon try to reach his wife? She thought he was dead but he knew she was alive. Did he really let all those years go by without contacting her? Really?? This is a perfect example of writers that create gullible characters and unrealistic situations that just don't ring true. 
Also crazy was the fact that after nineteen years of Jon in prison, Amos didn't get Anna (Jon's wife) to marry him. What the hell was dude doing all that time? He's the villain that didn't get the girl! Actually, he didn't get anything. One other mention is the fight at the end that should have been more of a nail-biting scene.
At the core of it all was envy. How many of us have or has had a friend that was envious of us? Do we keep them around or end the friendship? In this instance it was about covert jealousy – the most disconcerting kind.
Performances were on point. The only disappointment was not seeing more of Mercy J who was relegated to a suporting role. 
As usual, sound had issues. There were quite a few instances where the music was louder than the dialogue. I have complained about this issue a million times. I give up.
Overall, despite story flaws, "Jon Ajai" was an improvement for writer, Patrick Nnamani. It's not quite five stars but it's edgy enough to RECOMMEND