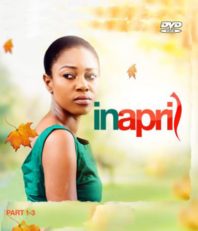 Starring: Yvonne Nelson, Kweku Elliot, Eddie Nartey, Ekow Blankson, Bismark Nii Odoi
Synopsis:
Three women take an annual vacation and one has an extramarital affair that hits home. 
Review:
Every year, during the month of April, Arabah (Yvonne Nelson) and her two girlfriends, Sasha and Joan, take a 'girls only' vacation. They booked a hotel at the Aqua Safari and were fortunate enough to meet the owner, Mr. Prempeh (Ekow Blankson) and Sasha (Regina Van-Helvert) set out to score an interview with him for work purposes.
At some point, Arabah forgot her purse and Mr. Prempeh was kind enough to return it to her room. One thing led to the next and the two spent the night together which resulted in a pregnancy. Weeks later when Arabah was about to announce baby news to her husband, he coincidentally admitted that he was sterile.
Let's Talk. This is a blasé story about infidelity and Lord knows we've seen enough of them. As stated in prior reviews, not every story needs to be scripted into a movie.
Here we had a young couple where the husband had an illegal side business that brought in extra money his wife constantly plagued him for and she had the nerve to cheat on a vacation that he financed.
As usual, story layout was the problem. The movie started where Arabah already had the one nighter and learned she was pregnant. It then went into flashback mode to get us up to snuff but that took most of the movie. The filmmakers may as well had started from the beginning; it would have made a more interesting tale.
The affair was not only predictable, it had absolutely no sizzle – not even a kiss. It was a missed opportunity to conjure up some spark because Yvonne Nelson and Ekow Blankson created compelling characters. We don't know what Arabah's marriage was like prior to her rendezvous so we are forced to chalk the affair up to too much booze.
The remainder of the story dealt with how the pregnancy would be handled and the subplot about the illegal activity Arabah's husband was engaged in.
Casting and performances were decent. Yvonne Nelson was the reason I watched. Kweku Elliot played her husband and they were compatible as a couple.  Actor, Ekow Blankson deserved better. He has such an onscreen presence but unfortunately he didn't have a substantial role to play.
Eddie Nartey wrote, directed, and acted, but judging from his movies, he's a much better actor than screenwriter.
Video was okay. Sound needed improvement as usual.
At the end of the day this was a bland story with arbitrary direction. With the industry churning out volumes of new movies on a regular basis, there's no valid reason to watch this one. EJECT