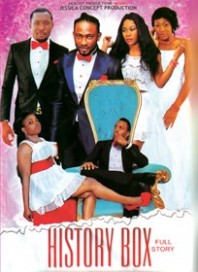 Starring: Joseph Benjamin, Uti Nwachukwu, Ebube Nwagbo
Synopsis:
Three young couples divulge secrets from their past that threaten to ruin their current relationships.
Review:
Things seemed great for Belinda (Oma Nnamdi) and Steve (Melvin Uduah) until Belinda confessed that she's pregnant for her ex-boyfriend. She made the mistake of spending the night with him when she had reason to believe Steve cheated.
Revenge was clearly not the way to go and irreparable damage was done to their relationship. When Steve confided in his homeboys it caused them to wonder if their girlfriends had secrets too. 
It turned out that Zach's (Uti Nwachujwu) girlfriend also had an ex-boyfriend that was still in the picture while Zach harbored a secret of his own. Another friend, Adams (Joseph Benjamin) waited until he tied the knot with his girlfriend for the both of them to admit their scandalous pasts.   
Let's Talk. "History Box" raises the topic of how much we should know about the past of our significant other. Do you want to know how many men she slept with? Does it matter how many women he's been with? Is this door better left shut? 
This movie seems to promote the idea that a woman that has had a life of promiscuity can put it behind her and still marry a decent man. True or false? Does that marriage come before or after she reveals her past? 
In this movie Adams married Zoe (Ebube Nwagbo) before he learned the truth about her. When she admitted her past he was ready to bounce but reconsidered after a pep talk from his mother. 
What's interesting about this particular situation was that Adams couldn't handle being married to the female version of him. In reality when a woman has been around the block she's labeled a slut but when a man has played the field he's just being a man. Women don't get the same "free pass" that men seem to be entitled to.
In as much as women may want to get their groove on, it's the female body that suffers the trauma of abortion or childbirth while men can just easily move on to the next woman. Of course, there are diseases, which is another issue. 
In regard to prostitution, the movie mentioned "circumstances" but the truth of the matter is that people don't give a damn about the "why." People only care about the "what." If you rob a bank the authorities don't take into account that your actions were a result of being broke; you will be charged for what you did. The movie encourages forgiveness but in the real world some men will sooner find another woman than to overlook a blemished past. 
What's good about the movie is that it got straight to the point. There was no two-hour story set up and there weren't too many scenes that dragged on and on. However, the secrets "in the box" were typical – the couple would be love with other people, be pregnant for someone else, admit freaky fetishes, or the most common, one would have slept with their best friends' significant other. 
As for performances, they were okay…for the most part. There was some overacting by some of the lesser-known actors. There's a bathroom scene where Uti Nwachujwu experienced some heartbreak but with all that hair covering his face it was hard to gage whether he was having a genuine emotional moment or not. 
As for technical issues there was a fight scene where the sound of the punches wasn't aligned with the action. 
The movie started out on a high note but then resorted to the "happily ever after" syndrome which detracted from the validity of the topic. By the end, a marriage proposal came out of nowhere and the tested marriage between Zoe and Adams resumed its honeymoon stage. Overall, it was decent. RECOMMEND