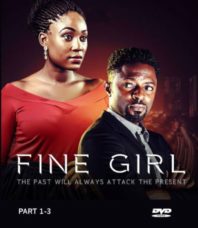 Starring: Belinda Effah, Ozzy Agu, Lota Chukwu
Synopsis:
A young woman resorts to prostitution to raise money but her decision later stands to jeopardize her relationship with the man of her dreams.
Review:
Chika (Lota Chukwu) had to drop out of school in order to work because her father was hospitalized and his fees were mounting. At the advice of a friend, she joined an "escort" service which she believed to be a lucrative business for fast cash.
Her father passed away but she continued turning tricks until the answer to her troubles came in the form of a wealthy man. At first she resisted love but after some persistence she later caved to the desire for a serious relationship.
Just when things started to look up, the disapproval of her fiance's well-to-do family and the exposure of her "night job" threatened the success of their union.
Let's Talk. Yet another bout with prostitution but this time the women were referred to as "escorts." The lead character's excuse was to pay her father's expenses but she continued to hook up with men even after he died which, made no sense since she initially felt the business was beneath her.
As life would have it, the man of her dreams found out about her shady career and instead of shunning her, he still wanted to marry her. This was a significant part of the story because although it was gracious of her boyfriend to disregard her past, it was also unlikely in terms of real life.
The story was made up of two overused themes – 1) prostitution where boyfriend finds out and 2) the storyline where parents disapprove of their children's spouse. (Yawn…) It then ventured into social status and went downhill from there.
There was nothing remotely interesting about this movie. The story was drab and so were the characters. Making matters worse was its' ambiguous conclusion. I'm not sure what to make of the ending other than chalking up the entire movie to fantasy.
Performances? B-
Sound and video quality were satisfactory.
Writer, Uduak Isong Oguamanam has a library of better movies. This one was just more African movie fluff. EJECT