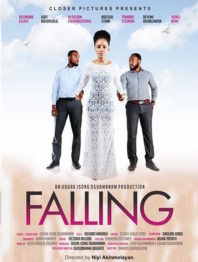 Starring:  Adesua Etomi, Blossom Chukwujekwu, Oyekunle Remi, Kofi Adjorlolo, Desmond Elliott, Tamara Eteimo
Synopsis: 
The marriage of a young couple is tested when one is hospitalized for an extensive time leaving the other to suffer loneliness.
Review:
Muna and Imoh were happily married for three years when tragedy struck. Imoh was in an accident that left him in a coma for months. 
Imoh survived on life support and was presumed to be in a vegetative state all while Muna's parents pushed her to pull the plug on him. She refused to give up on her husband and instead she held on to any inkling of a chance that he would recuperate. As Muna suffered emotional stress and mounting hospital bills she was unaware of further complications around the corner. 
She hung out with her sister one night and this is when she met Yemi (Blossom Chukwujekwu). Yemi was a young doctor and he became involved in Imoh's care. As the two conferred on Imoh's prognosis, lunches turned into dinners and then an impromptu night between the sheets. Was it time to finally disconnect Imoh's life support? 
Let's Talk. When it rains it pours but sometimes the sun comes back when you least expect it. How do we handle the unexpected? Here, the writer threw all sorts of surprises at us and it made for an interesting watch. 
This drama was evocative of the ancient marriage vow "through thick and through thin." Certain events placed Muna and Imoh in a quandary and life altering decisions were made. This aspect of the story opened the door to exploring human nature as we sometimes tend to think of ourselves first before we consider others. 
The love triangle between Muna, Yemi, and Imoh felt genuine and it was contrasted with the meaningless union between Muna's father and his bimbo girlfriend. Clearly he was experiencing mid-life crisis. This type of relationship where an older man and younger woman have sex in exchange for monetary benefits made the complexities brought forth by the main story more compelling to watch. 
This movie wasn't perfect. There's a scene where we saw a movie director shooting a movie. The point of the scene was to show Muna's talent as a screenwriter but after the point was made they should have cut to the next scene. Continuing the "scene within a scene" watered down the story a bit. There was also an attempt with humor. Some of it worked, some didn't. 
The beauty of this movie was the way in which the definition of second chances was translated. Second chances and forgiveness go hand in hand. It's an opportunity to forgive others and to also forgive ourselves. When God grants us a second chance, it's an opportunity to wipe the slate clean. We don't get to undo the past but we do get to mend fences. The trick is to carefully orchestrate our next move so that we make God proud. 
The casting was also on point and performances were pretty awesome. A high five to Adesua Etomi, Blossom Chukwujekwu, and Oyekunle Remi. Their talent certainly enhanced the script. 
The end of the movie was adequately crafted as the writer resolved the conflicts with healthy solutions. Every loose end was tied which made "Falling" a well executed story that soared with purpose. RECOMMEND