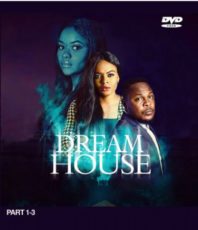 Starring: Femi Jacobs, Matilda Obaseki Mozia, Kehinde Bankole
Synopsis:
A couple expecting their first child purchases a home riddled with the ghost of the previous owner.
Review:
Akin and Elena (Femi Jacobs & Matilda Obaseki) were blissfully married, expecting their first child, and in the midst of purchasing their first home. After moving in, strange things began to occur. Doors mysteriously slammed, voices echoed in the air, and Elena had sightings of a ghost. Akin was oblivious to it all and thought Elena was losing her mind.
After constantly running in fear and losing her unborn child as a result, Elena changed her attitude and decided to confront the ghost. It was then that the ghost identified herself as Ene (Kehinde Bankole), the previous owner of the home who was killed by her husband.
Ene was after justice and wanted Elena to find where her body was buried to prove she was dead and not missing. Elena was reluctant at first but on the verge of her investigation her husband had her committed to an insane asylum.
Let's Talk. Yet, another haunted house movie. My first instinct was not to bother watching because I couldn't imagine what would make this one any better than the rest but my curiosity got the best of me. 
Of course we know how the story goes – a woman sees a ghost that her husband can't see and she becomes isolated and labeled crazy because no one believes her.
The story is pretty similar to Omoni Oboli's "The Duplex." Both stories featured a young couple that unwittingly purchased a haunted house where the wife was pregnant and lost the child. The ghost in both stories were also the previous owner that had an ax to grind. Actually, Femi Jacobs also starred in "Shadow in the Mirror" where he also played the unsuspecting husband in an almost identical story. 
As stated on the Movie Ratings page, movies, for the most part, are recycled. Original movies are few and far between so if originality is what you're looking for you will be disappointed time and time again. The key is to take movies on an individual basis and hope you're entertained by them.
What happened in this story was that the wife decided to assist the ghost for the sake of justice. It was interesting to see Elena go from being frightened to actually teaming up with the ghost who enabled her to travel back in time to revisit the evening in question. 
If only life were really like this – where the deceased could actually contact the living in order to help solve a crime. Imagine how few unsolved murders there would be!
Story pacing and execution flowed. It wasn't scary but it provided enough suspense to engage an audience to its conclusion.
Performances were the appeal as Femi Jacobs, Matilda Obaseki, and Kehinde Bankole made a conventional story practically bewitching.
Audio, video, and special effects sufficed.
Overall, despite the repetition, I enjoyed this movie. RECOMMEND