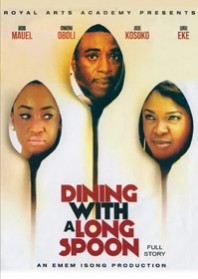 Starring: Bob Manuel Udokwu, Omoni Oboli, Uru Eke
Synopsis:
A senator's wife and the "other woman" team up with a scheme to eliminate him but the plan is intercepted by the unforeseen.
Review:
Kayode (Bob Manuel Udokwu) had his eye on becoming the next governor of Nigeria. He was a senator with the love of the people but there was more to him than the wholesome image he projected. He was married to Clarice (Omoni Oboli) and she was rumored to be mentally disturbed. He couldn't stand his wife but tolerated her for career purposes. 
The incumbent was determined to keep his seat in office and his strategy was to offer Kayode's campaign manager a job but Fedura (Uru Eke) remained loyal to Kayode. With a busy media schedule and an unpredictable wife, Fedura constantly put out fires in Kayode's life while she lighted his fire behind closed doors.
Fedora really wanted Kayode for herself but he couldn't risk ruining his image by divorcing his mentally ill wife. At home, his wife fought for the marriage but any attempts she made to please him were flat out rejected. 
It seemed that both women were not getting what they wanted from Kayode and they formed an unlikely alliance. A suggestion to get rid of him turned into a plan of action.
Let's Talk. This is a drama that commenced with a dose of politics but the story centers around a love triangle. The writing was efficient with characters that enhanced the story. There's a senator seeking to further his political career, a campaign manager that had a flair of  "Olivia Pope,' and then there's a loony bin character that tugged at your heartstrings. 
The movie didn't really pop until half way through when the two women executed "Plan A." Under the direction of Desmond Elliott the movie does have some startling moments although some story aspects were predictable. 
At the core of the story are the "long handle spoon" relationships. The term "feeding someone with a long handle spoon" refers to keeping someone at a reasonable distance. Imagine feeding someone with an extra long spoon. Obviously you care about them enough to feed them but there's an underlying issue in the relationship that's causing some friction. 
As the term relates to the story, the most prominent "long handle spoon" relationships were those with Clarice. Kayode put up with her just enough to keep her in the marriage while Fedura worked with her to carry out the murder plan. 
Performances? Bob Manuel Udokwu did a respectable job. As for the writing of his character, a little more insight into Kayode's political aspirations was needed.
There's a scene where a debate took place and Kayode's speech was faded into a montage of ambiguity and left to the viewers imagination. His words needed to be heard. Two or three lines of what he planned to accomplish as governor or better yet the mention of a problem that Nigeria faces today would have made the character more authentic as a candidate running for office. 
Omoni Oboli was exceptional. There's an abundance of stories out there to tell but there's a shortage of great roles for Black actresses to play. Hats off to the writers for creating this role and for choosing Omoni to play it. 
A title like "Dining with a Long Spoon" certainly piques the interest. The movie turned out to be an interesting merge of politics, love, and crime worth watching.   RECOMMEND