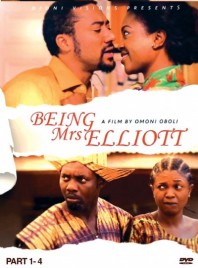 Starring: Omoni Oboli, Majid Michel, Seun Akindele, Uru Eke, Sylvya Oluchy, Ayo Makun
Synopsis:
The lives of two women collide as they run from circumstances that ultimately led to a place of contentment.  
Review:
The story commences with the troublesome marriage between Lara and Bill Elliott (Omoni Oboli & Majid Michel). Lara had fertility issues yet she objected to Bill's decision to raise the two young boys of his deceased cousin. Adding fuel to the fire was Lara's suspicion that Bill was having an affair with his alluring office assistant. 
In a separate storyline, the future was looking bright for Fisayo (Uru Eke). She had recently become engaged to her boyfriend but shortly after, he was murdered in cold blood. Fisayo witnessed the brutal killing and when the criminals realized she saw them, the chase was on.   
The two storylines joined when Lara and Fisayo met for the first time at the Asaba airport. Fisayo was on the run and Lara was fuming because she had just caught Bill in a compromising situation with his assistant. Their flight was cancelled so they shared a taxi to Lagos instead. 
On the way, there was a horrible car accident and Fisayo (Uru Eke) was burned beyond recognition. Bill (Lara's husband) was unaware that there was another woman in the taxi so he assumed the badly scarred Fisayo was his wife, Lara. Fisayo was rushed to the hospital and thanks to pictures of Lara; surgeons were able to reconstruct her face to Lara's likeness. The new look was right on time for Fisayo since the assassins chasing her would no longer be able to recognize her. 
Fisayo went home with Bill and lived life as Mrs. Lara Elliott. Although Bill noticed some changes about her, he brushed them off and believed she was his wife. Fisayo knew nothing about Lara's life so she pretended to suffer from amnesia when it was convenient.  
Meanwhile, the real Lara endured temporary memory loss and was living with a strange man in the village. The man, Isawuru (Ayo Makun) took her in and cared for her after the accident. His peers often ridiculed him for not having a wife so when Lara appeared in his life, he thought God had answered his prayers. 
Lara adapted to village life while Fisayo acclimated to marriage with Bill. As both women lived a lie, new and genuine foundations developed, but it wasn't long before someone put two and two together. 
Let's Talk. Fantasy, anyone? This story is immersed in unbelievable events yet it was very enchanting. How did that happen?  🙂
The movie took a trip down soap opera lane when the surgeons were able to construct Fisayo's face to look just like Lara's. Also implausible was Bill living with a total stranger that he believed was his wife.
The script cleverly acknowledged the improbabilities but we have to remember that this is movie land and logic doesn't matter if you're absorbed in the fiction. 
The screenplay was written and directed by actress, Omoni Oboli. It was competently done in terms of story structure and it had all the elements to acquire viewer interest – murder, romance, intrigue, and humor. Omoni inserted shocking, funny, and tender moments that made a virtually impossible story compelling. 
There were also subtle lessons. Lara lived a bourgeois lifestyle but village life brought her back to basics. She developed feelings for Isawuru, a man that didn't have the kind of money she was used to, which, speaks volumes to the fact that money doesn't compensate for true love.
As for Fisayo, it was unfortunate that her fiancé was murdered, but by the movie's end, God blessed her with more than what she lost. 
After the truth unfolded, there's a scene where Isawuru traveled from the village to the city to find Lara. He showed up at her home uninvited and he wanted her to go back home with him. This scene triggered a flashback of the movie "Stolen Pregnancy" which had a similar situation where a village guy was in love with a well-to-do woman. Both scenes were poignant and impressive moments that tugged at the heart.   
Performances? Omoni Oboli coined a screenplay with ample entertainment value that also displayed her talent as an actress. She can play the glamour girl or the village girl or anything in between.
Majid Michel held his own as the patient husband and Sylvya Oluchy is always interesting to watch. The only complaint is not seeing enough of Seun Akindele. 
I enjoyed this movie. It's a winning combination of drama and fantasy that was delightful. RECOMMEND
Rated: PG
Genre: Romantic Drama
Release Date: 2014
Directed by: Omoni Oboli
Starring: Andrea Chika Chukwu, Lepacious Bose, Ada Lewis Egbosi, Taiwo Familoni, Gabriel Ojini, Sylvya Oluchy, Majid Michel, Ime Bishop Umoh, Omoni Oboli, Seun Akindele, Uru Eke
Written by: Omoni Oboli
Studio: Dioni Visions
Country: Nigeria