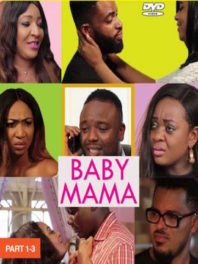 Starring: Van Vicker, Jackie Appiah, Rita Nzelu
Synopsis:
Money is the agenda for women with out-of-wedlock children who plan to reap the benefits of child support.
Review:
The movie opens up to Jane (Jackie Appiah) throwing a party to celebrate her divorce from Bob (Van Vicker). Although they share a son, Jane quickly moved on with a guy that courted her with expensive gifts. Obviously, a man of financial freedom, Jane planned to get pregnant for him.
Meanwhile, Frank (Uwem Umoh), a married man, had the nerve to make a love child with his side chick. He continued spending time with his "second family" and his wife suspected he was cheating.
Another situation was about Celine (Jenny Nwaji) and her boyfriend. They were the only couple without children but their relationship deteriorated when her boyfriend suffered feelings of inadequacy when he couldn't afford expensive gifts like her girlfriends received from their men.
Let's Talk. First off, let's define the term "baby mama." It was born in the ghetto and was initially derived from situations where a man and a woman had a 'no strings attached' sexual relationship that resulted in a pregnancy. These pregnancies were often accidental or also deliberate motivated by the desire to hold onto the partner or to be paid child support.
The phrase has negative implications and is not to be confused with an ex-wife or ex-girlfriend who was in a committed relationship that produced a child. In this case, they're simply an ex-wife or ex-girlfriend – not a baby mama.  That being said, when a woman is labeled "baby mama" it's equivalent to airing dirty laundry.
The suggestive saying is sometimes taken out of context as single women with children, regardless of her circumstances, are referred to as baby mamas. People don't bother to acknowledge whether the single mother was in a serious relationship or not which is insulting. 
In this story, there was more than baby mama drama; the women were also the "other woman." The characters had babies for men that did not leave their significant others and it's baffling why women continue to accept the number two position. Is it a self-esteem issue when women accept second place in a man's life? Is it love?
Of course, there's always an agenda, mainly money, and hopefully the payout is worth accepting a man whose wife is pulling the strings in the relationship. After all, a man can only see the "other woman" when his woman/wife is unavailable.
Time is limited and more often than not, he's with wifey on weekends and holidays. Are women selling themselves short in the name of money? Of course, fathers should pay for their kids but is it right that women use children for spite or monetary gain?
As for the movie, the problem is that the story was plotless and pointless. Movies that tackle social issues should at least add value. Yes, art does imitate life and surely baby mamas exist all over the world but when it comes to fiction like this movie, at least one character should evolve instead of featuring all gold-diggers that went nowhere.
The truth is that meaningful dialogue can inspire hope for women who may have lost their way. Out of wedlock pregnancies happen everyday but what a woman does next is important; it will affect the rest of her life.
As for performances, some were amateur. The movie suffered from uninteresting characters and corny men. Van Vicker and Jackie Appiah played starring roles although Van was MIA for most of the movie.
Sound had issues. There were pockets of dead silence while actors were obviously speaking. Video was okay.
The story ended abruptly and I'm not sure the entire movie was on the DVD that I watched. But to tell you the truth, it didn't end fast enough. The title alone was derogatory which, is fine but then it was followed by content that offered nothing in terms of merit, entertainment, or humor. EJECT