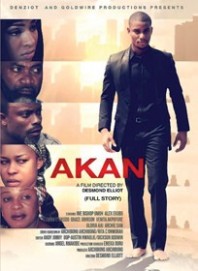 Starring: Alexx Ekubo, Ime "Bishop" Umoh, Venita Akpofure, Grace Johnson
Synopsis:
A young man returns to Nigeria from the US accompanied by his "Americanized" fiancée but the homecoming is dampened when his father disapproves of his choice of a wife.  
Review:
Akan (Alexx Ekubo) returned to Nigeria after studying in the U.S. where he met his fiancée Sophia (Venita Akpofure). Sophia hadn't been to Nigeria since her childhood but her engagement to Akan was reason to travel with him in order to meet his parents for the first time.
At the initial introduction, Akan's father didn't take a liking to her. Sophia was a Nigerian with an American flair and she was unfamiliar with the Nigerian culture. In addition, she didn't cook, clean, or speak the Ibibio language. 
Sophia was too much of a modern woman and Akan's father preferred that he marry a woman that was familiar with Nigerian traditions. He contacted his brother, Sunny (Ime "Bishop" Umoh), and the two schemed to find Akan a "decent" girl.
Sunny came up with Mbong (Grace Johnson), who was a girl that he knew from a local shop. Mbong moved into Akan's home shortly after meeting him with the idea that she and Akan would hook up. Akan's father paid for her upkeep but unbeknownst to the family, Sunny made an agreement with her to get a cut of any money she received.  
Things didn't work out as planned. Akan wasn't attracted to Mbong and he refused to allow historical customs to run his life. Mbong turned out to be an airhead and she caused a ruckus when she exposed Sunny's underhanded ways.  
Let's Talk. This is a drama that simply fell flat. First off, for Akan's father to dislike a Nigerian woman because she has an American flair isn't a story worth telling. Sooo what?? A stronger story would have been if Sophia was a straight up American or better yet, Indian or Asian. Then we would have had a real culture clash and the differences in customs would have been an interesting topic.   
At the root of the story is racism within the race. We as Black people sometimes have discriminative feelings toward other Blacks due to nationality, religion, socioeconomic class, and even skin complexion which is all so unnecessary. The movie doesn't enlighten or offer resolutions. 
In terms of the story, it was a little over the top that Akan's father would just move Mbong, a total stranger, into the house. And then in one scene he told her "don't worry, he'll come back to you." Back? Akan was never hers and never even came close. 
The fact that Sophia didn't cook or clean seemed to be an issue but Akan's mother didn't cook either; she had a servant in the house! By the conclusion of the movie, Sophia made it her business to learn the Ibibio dialect and she learned to make certain Nigerian dishes.
I don't believe that people should conform so that others will like them. People have a right to be themselves. It's time for us to embrace our commonalities as well as our differences. It makes for a better world. Sophia should have learned the Nigerian culture because she's a born Nigerian, not for acceptance. 
The movie managed to move seamlessly from one scene to the next and it wasn't boring, it's just that the story wasn't profound.
As for performances, they were satisfactory.  Although I can appreciate Alexx's performance as Akan, the role wasn't exactly emotionally demanding. He and Venita made such a cute couple though. Grace Johnson had the best role and the best performance in the movie. 
Ime "Bishop" Umoh got top billing in the closing credits. I don't know what agreements were made in regard to the movie but I think Alexx should have been listed first since he played Akan, the lead role and name of the movie. It's most likely politics but Ime plays the saaame character over and over and over again. I'm just saying… 
Overall, I wasn't enthused by this movie. We've seen plenty of dramas where parents don't approve of their son/daughter's spouse and this movie failed to put a fresh spin on an overused idea. EJECT